Detoxifying Exfoliating Mask - Travel Size
2oz Deluxe Travel Size
⭐️ ⭐️ ⭐️ ⭐️ ⭐️
"This exfoliating mask cleared my bacne and acne all together in less than a week!" -  Elizabeth O., Verified Buyer
"It got rid of my strawberry legs with just 1 use." - Randi W., Verified Buyer
"My chicken skin has drastically improved within 2 weeks." - Emily D., Verified Buyer

-----

Fresh Skin In MINUTES!

Meet Hit Restart: A Detoxifying Exfoliating Mask for your face & body. She is 100% plant-based, vegan, and ready to get to work her magic on  Clogged Pores, Breakouts, Cellulite, Stretch Marks, Keratosis Pilaris & Strawberry Legs.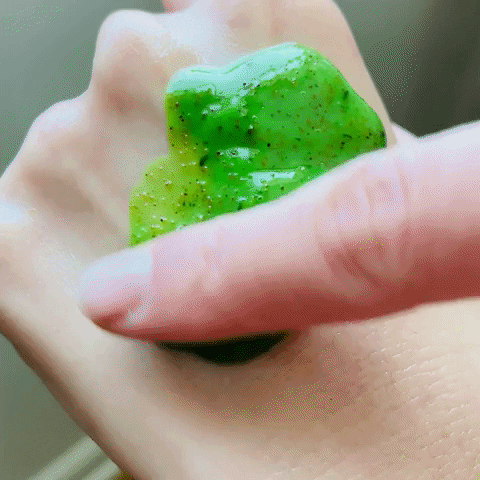 Her blend of Kale, Spinach, Cucumber & Flaxseed will leave you with fresh, healthy skin that's so smooth & so soft!
For:

Normal to Oily Clogged Bumpy Skin
Benefits:
Immediate: Skin is smoother, softer, fresh, and radiant.
Long-term: Skin is consistently smoother, more even-toned, with a healthy glow.  
Helps with:
Blackheads 
Breakouts
Keratosis Pilaris (KP, "chicken skin" bumps) 
Strawberry Legs
Cellulite
Stretch Marks 
Key Ingredients:
Kale -  Vitamin A, C & K for skin strengthening
Spinach -  Powerhouse antioxidants for toxins protection
Spirulina -  Rich B complex vitamins for skin revitalization
Cucumber -  Vitamin C and Beta-carotene for anti-inflammation
Flaxseed -  Rich minerals for deep cleansing and detoxification
Features: 
100% Plant-Based, Vegan & Gluten-Free
10-Free No Toxins Promise
No refrigeration needed
Good for 12 months upon opening
10-Free No Toxins Promise:
NO Parabens
NO SLS & SLES
NO Synthetic Fragrance
NO Propylene Glycol 
NO Mineral Oil 
NO PEGs
NO Triclosan
NO DMDM Hydantoin 
NO DEA, TEA & MEA
NO BHA
All Plant-Based Ingredients: Kale, Spinach, Spirulina, Cucumber, Flaxseed, Ginger Root, Walnut Powder, Shea Butter, Safflower Seed Oil, Cucumber Oil, Peppermint Oil, Spearmint Oil, Grape Seed, Apricot Seed Powder, Apricot Fruit, Apple, Raspberry Fruit & Sandalwood.
No, they do not need to be refrigerated. :)  We understand how inconvenient that would be if they need to be. So we formulated them like how you would use your regular skincare.

However, you can certainly chill them in the fridge for extra cooling and refreshing masking experience.
Our Exfoliating Masks have gone through an extensive formulation process to create a safe and strong preservative system for all the amazing natural ingredients. It has a shelf life of 12 months upon opening the product. :)
Directions: Shower and cleanse as usual prior to application.
Step 1 Exfoliate: massage onto damp skin to get rid of dead skin and open pores (1-2 mins).
Step 2 Mask: leave on and gently massage, allowing skin to absorb the amazing nutrients (1-2 mins). Rinse well.
Use 2-3 times a week for optimal results.

 --------------------

Recommend: Shake before use.
Step 1: Exfoliate
Massage onto damp skin; allow Flaxseed to get rid of dead skin and open pores (1-2 mins).
Step 2: Mask
Leave on and gently massage, allowing skin to absorb Superfoods' mega nutrients (1-2 mins).
Results: Healthy "Fit" Skin
Beautiful glowy skin that radiates health!
Detoxifying Exfoliating Mask - Travel Size
Hit Restart Official Ingredients List

Water, Glycerin, Walnut Powder, Coco-Glucoside, Shea Butter, Safflower Seed Oil, Sodium Acrylates Copolymer, Celery Extract, Kale Leaf Extract, Cantaloupe Fruit Extract, Cucumber Fruit Extract, Cucumber Seed Extract, Grape Seed, Flaxseed Seed Powder, Apricot Seed Powder, Apricot Fruit Extract, Apple Fruit Extract, Raspberry Fruit Extract, Sandalwood Wood Extract, Spinach Leaf Extract, Ginger Root Extract, Peppermint Extract, Peppermint Leaf Extract, Spearmint Extract, Spirulina Extract, Rose Extract, Lecithin, Caprylic Capric Triglyceride, Coconut Alcohol, Menthoxypropanediol, Disodium EDTA, Ethylhexyl Methoxycinnamate, Butyl Methoxydibenzoylmethane, Ethylhexyl Salicylate, Phenoxyethanol, Caprylyl Glycol, Chlorphenesin, Ethylhexylglycerin, Citric Acid, Yellow 5, CI 19140, Blue 1 CI 42090

Gain Strength Official Ingredients List

Water, Glycerin, Walnut Powder, Coco-Glucoside, Shea Butter, Strawberry Seed, Safflower Seed Oil, Sodium Acrylates Copolymer, Citrus Orange Peel Oil, Lemon Peel Oil, Tea Tree Leaf Oil, Eucalyptus Leaf Oil, Citrus Orange Peel Extract, Carrot Root Extract, Apple Fruit Extract, Celery Seed Extract, Agave Stem Extract, Peppermint Leaf Extract, Ginger Root Extract, Spinach Leaf Extract, Kale Leaf Extract, Linseed Seed Powder, Grape Seed, Lecithin, Coconut Alcohol, Caprylic Capric Triglyceride, Castor Seed Oil, Polyhydroxystearic Acid, Ethylhexyl Methoxycinnamate, Butyl Methoxydibenzoylmethane, Ethylhexyl Salicylate, Menthoxypropanediol, Disodium EDTA, Phenoxyethanol, Caprylyl Glycol, Chlorphenesin, Ethylhexylglycerin, Titanium Dioxide CI 77891, Yellow 6 CI 15985, Red 33 CI 17200, Orange 4 CI 15510 

Boost Energy Official Ingredients List

Water, Glycerin, Apricot Seed Powder, Walnut Powder,Coco-Glucoside, Shea Butter, Strawberry Seed, Safflower Seed Oil, Sodium Acrylates Copolymer, Orange Peel Oil, Lemon Peel Oil, Tea Tree Leaf Oil, Eucalyptus Globulus Leaf Oil, Orange Peel Extract, Carrot Root Extract, Apple Fruit Extract, Celery Seed Extract, Agave Stem Extract, Peppermint Leaf Extract, Ginger Root Extract, Spinach Leaf Extract, Kale Leaf Extract, Linseed Seed Powder, Grape Seed, Lecithin, Coconut Alcohol, Caprylic/Capric Triglyceride, Castor Seed Oil, Polyhydroxystearic Acid, Ethylhexyl Methoxycinnamate, Butyl Methoxydibenzoylmethane, Ethylhexyl Salicylate, Menthoxypropanediol, Disodium EDTA, Phenoxyethanol, Caprylyl Glycol, Chlorphenesin, Ethylhexylglycerin, Titanium Dioxide CI 77891, Yellow 6 CI 15985, Red 33 CI 17200, Orange 4 CI 15510